White Box Announces Exhibition of HarperCollins Graphic Novel "THE ART OF WAR"
First Installation Of Its Kind Will Feature Over 200 Works, From August 1 - August 7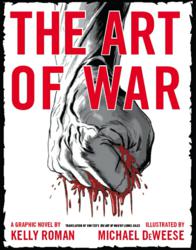 "This installation transforms the book into a new, immersive experience that reinvents the way people engage graphic novels," states White Box founder and artistic director Juan Puntes.
New York, NY (PRWEB) June 04, 2012
White Box
will exhibit all of the original artwork from
THE ART OF WAR: A GRAPHIC NOVEL
(HarperCollins) from August 1 - 7. Featuring over 200 works on paper, the event marks the first time an entire graphic novel has been exhibited at a major contemporary art institution.
"This installation transforms the book into a new, immersive experience that reinvents the way people engage graphic novels," states White Box founder and artistic director Juan Puntes.
The graphic novel adapts Sun Tzu's iconic strategy text into a thriller set in a violent near-future when financial markets are militarized and China is the world's dominant economy. Written and storyboarded by Kelly Roman and illustrated by Michael DeWeese, the book took six years to create and will be published on July 31 by Harper Perennial, the literary fiction imprint of HarperCollins.
The book has already received outstanding early reviews, including a strong recommendation from Comic Book Resources. Retired US Army General Stephen N. Xenakis calls the book "an astounding adaptation of Sun Tzu's ancient text" and former Carnegie Endowment senior associate Minxin Pei states that the book should be "required reading for those concerned with the future of America and its place in the world."
From August 1 - 7, the show will be open to the public everyday from 12pm - 6pm at White Box, located at 329 Broome Street in Manhattan.
About White Box
Since its foundation as an alternative art space in 1998, White Box has emerged as an internationally respected venue for original, conceptually driven shows of emerging and established artists. With as many as ten solo, group and theme-based exhibitions a year, plus continuous additional programs, seminars, forums, performances and screenings. White Box actively promotes freedom of expression and provides a high-profile channel for artists and curators with an ethical perspective. White Box, a 501 (c) (3) not-for-profit organization, is where curators and artists alike are offered the rare opportunity to present exhibitions and explore non-commercial and innovative ideas in projects that range from aesthetically exciting to provocative. White Box serves as a tangible counterforce to its mainstream neighbors and has grown into a significant element in the urban non-profit landscape.
http://www.whiteboxny.org/
About Kelly Roman
Author Kelly Roman learned woodblock printmaking at Deerfield Academy and graduated from Harvard where he studied creative writing with Pulitzer Prize winning novelist Richard Ford. Kelly is a co-owner of
Fisher Wallace Laboratories
, a progressive medical device company that treats the symptoms of PTSD. THE ART OF WAR is his debut graphic novel.
About Michael DeWeese
Illustrator Michael DeWeese graduated from the North Carolina School of the Arts in 2006. He has worked as a storyboard artist for music video and commercial directors. In 2010 he executed the storyboards for Lady Gaga's "Alejandro" video (directed by Steven Klein). Michael likes to bring out the kink in whatever art he's working on. THE ART OF WAR is also his debut.
About HarperCollins Publishers
HarperCollins, one of the largest English-language publishers in the world, is a subsidiary of News Corporation. Headquartered in New York, HarperCollins has publishing groups around the world including the HarperCollins General Books Group, HarperCollins Children's Books Group, Zondervan, HarperCollins UK, HarperCollins Canada, HarperCollins Australia/New Zealand and HarperCollins India. HarperCollins is a broad-based publisher with strengths in literary and commercial fiction, business books, children's books, cookbooks, mystery, romance, reference, religious and spiritual books. With nearly 200 years of history HarperCollins has published some of the world's foremost authors and has won numerous awards including the Nobel Prize, the Pulitzer Prize and National Book Award, the Newbery Medal and the Caldecott. Consistently at the forefront of innovation and technological advancement HarperCollins is the first publisher to digitize its content and create a global digital warehouse to protect the rights of its authors, meet consumer demand and generate additional business opportunities. You can visit HarperCollins Publishers on the Internet at
http://www.harpercollins.com
.